District Party committee secretary, visit the company to guide research work
In order to grasp the development condition of the tradition profession in Long Wan district, district party committee secretary of its party study and judge the step development direction,. The longwan district party committee Secretary Lingling Chen leads the correlation department people in charge to carry on the investigation and study from Zhejiang Donjoy Technology company's management condition, the market order form situation as well as the work contract situation and so on.
In the investigation and study, the area leader pays attention to the enterprise extremely the development condition, inquired carefully enterprise difficulty and question which exists in the development process, and with the enterprise discussed together the solution mentality, help solves the problem.
The president of company Guangping Xiang said that, Donjoy market potential is good at present, our product sells to world each country, but by the present scale of production, is unable to satisfy the market the demand, does not have the good environment. The good hardware facility has not been unable to detain the talented person, therefore we urgently need the renewal equipment, the expansion scale of production, forms the industrial chain, Drive profession development.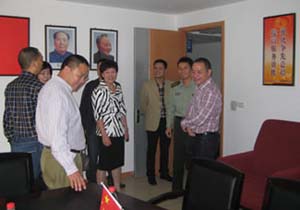 At the symposium, Secretary Lingling Chen had affirmed fully east the enterprise develops the contribution to Longwan district. She pointed out that, the profession of sanitary valve, the pump are the emerging technical profession, the prospect are broad, Long Wan district must realize speeds up the development, the enterprise must speed up the reform step, establishes adapts the market economy new mechanism, enables the enterprise to march with light packs, fills the vitality and the vigor unceasingly.The municipal party committee municipal government also can support the enterprise to develop with all one's strength, lets the enterprise achieve the anticipated target as soon as possible, creates the good development environment diligently, hoped the entrepreneurs must be full of confidence regarding this, drops to develop boldly, achieve win-win situation.